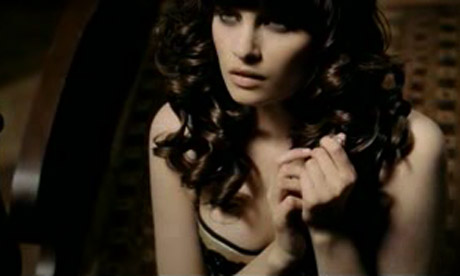 A TV ad campaign featuring lingerie-clad women praying for beautiful hair has been banned by the advertising watchdog because it might offend Christians.
The series of three TV ads, created by ad agency TBWA Manchester for beauty firm ghd, had an overall religious theme using the strapline "Ghd. A new religion for hair".
Ghd's ads showed scantily-clad women in various positions, such as lying on a bed, while looking upwards with their hands clasped as if in prayer. Some had objects that looked like votive candles and rosary beads.
Viewers could hear the thoughts of each of the women, in various languages including English, which centred on having great hair.
One woman was thinking "May my new curls make her feel choked with jealousy", while another was saying to herself "May my flirty flicks puncture the heart of every man I see". At the end of each ad an endline ran: "Thy will be done".
The Advertising Standards Authority received a total of 23 complaints, including one from the Archdeacon of Liverpool, objecting that the ads were offensive to the Christian faith.
The complaints particularly highlighted the use of the phrase from the Lord's Prayer and the depiction of the letter "t" as a cross in "thy".
The ASA said that while previous ghd campaigns did not "mock" faith or belief, the new ads went further with the women appearing to be praying while being erotic.
The ad watchdog decided to ban the ad because the eroticised images in conjunction with religious symbols and the phrase "Thy will be done", as well as the letter "t" as the cross of Jesus, were likely to cause serious offence, particularly to Christians.
Martin Penny, the managing director of ghd, said that the ban was perplexing, adding that the company had used the phrase "a new religion for hair" for seven years with little problem.
"We have a loyal following of women and the ads were, in fact, produced by an all-female creative team," he said. "It has nothing to do with religion really, if it was more people would have complained.
"There are far more erotic things in Nuts or on Page 3 if that's what people like. It is a fashion ad which is tasteful and sensitive. The ASA seem to be frightened of their own shadow."
GHD: New Religion in Hair Care (Thy will done)
GHD: new religion for hair commercial
3 Responses to "Ghd Beauty ad banned after Christian outcry"
1. Beauty Entertainment Says:
May 1st, 2008 at 11:48 am

Hi – fine blog with Beauty Entertainment

2. GHD Approved Stockists Says:
August 4th, 2008 at 10:11 pm

I think the GHD adverts are great and makes be laugh when certain ads get banned – what happened to bit of harmless fun in advertising

3. kreply Says:
April 11th, 2011 at 5:50 pm

In all due respect, If you're not a follower of God, then it's understandable why one would think this is harmless. Those of us who are know that there are so many other ways to present/sell/advertise a product. *This* particular way is not harmless. It's not fun and it's not funny to blaspheme God. It is an abomination.