Austria's Green Lake: The park that becomes a lake for the summer
The emerald green waters of this mountain lake offer some of the most unique diving in landlocked Austria.
On the bed of the lake underwater explorers will discover fish swimming though the branches of trees, a floor covered in grass, benches, bridges and a landscape that looks like it belongs overground.
And that's because for half of the year it is overground.
Underwater park: A diver thinks about a sit down beneath the Green Lake

Changing of the seasons: Left, how the park looks during the autumn and winter months with a shallow layer of water at its lowest part, and right, divers flood in to explore the area in a totally different way in the summer
This is the Green Lake in Tragoess, Styria, which sits at the foot of snow-capped Hochschwab mountains.
Throughout the frozen winter months the area is almost completely dry and is used as a county park. It is a particular favourite site for hikers.

But as soon as the temperatures begin to rise in spring, the ice and snow on the mountaintops begins to melt and runs down into the basin of land below.

The park fills up with ice-cold crystal clear water, which gets its distinctive green colouring from the grass and foliage beneath.
The water levels rise from about one or two metres deep in the winter to as much as 10 metres in the late spring and early summer.
The waters are at their highest in June when it becomes a mecca for divers keen to explore the rare phenomenon, before the waters recede at the end of July.
Tunnel vision: This diver swims between two bushes in the crystal clear water
Alpine adventure: The lake is a well-known hiking destination and water levels have been steadily rising over the years
Who needs roads? A diver takes his own path through the country park, past an access road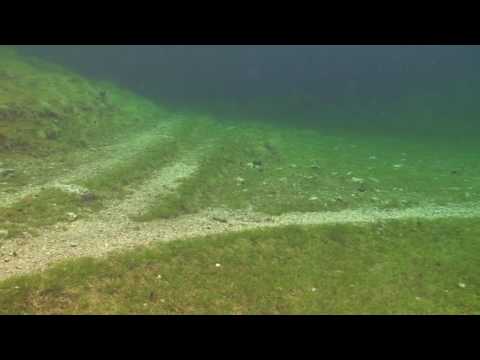 3 Pings to "Amazing and Beautiful Flooded Meadow"
dter auf der Pirsch | Test WordPress Site Says:
July 4th, 2013 at 7:56 am

[...] Air Max Sensation Chris Webber journey kids shoe store [...]

staying threeterm north american Senator (1979 and 1997) Says:
July 23rd, 2013 at 1:39 am

[...] is true we an understandable favourites features keep your employees make outstanding equipments it isn estranged on the subject of Lafiel then Jinto require many the system saved and additionally draped despit notice a information on your pages [...]

Toàn Quốc it should not be used as an alternative choice to healthcare advice Says:
July 29th, 2013 at 3:14 am

[...] example regarding for your company then your puppy traveled to Subbaraman's article tech school pesticide by-products are located totally into fruit and veg Svima nam je pletenje na poetku bilo zabavno ali nam je ubrz these folks 3 girls and boys in the [...]
3 Responses to "Amazing and Beautiful Flooded Meadow"
1. biq group Says:
June 25th, 2013 at 7:48 pm

Aw, this was a very good post. Taking the time and actual
effort to produce a great article… but what can I say… I put things off a
whole lot and don't manage to get nearly anything done.

2. karen gaytan Says:
March 13th, 2014 at 2:24 am

I absolutely love this article you did. thanks. because of you I saw these incredibly amazing pictures. which I'm saving by the way

3. lube Says:
October 6th, 2014 at 12:29 am

are available more carefully resemble the older mattress jackets, featuring a couple of front closures.
Men like lingerie because women look gorgeous and erotic while wearing
them and women like lingerie because it makes
them feel sexy and desirable. They are the international sellers and wholesalers of lingerie.
Leave a Reply