Mar 30
HUNK, MUSIC & VIDEO
Comments Off on Ricky Martin comes out as gay: 'I am a fortunate homosexual man'
Ricky Martin has come out as gay, bringing to an end years of speculation about the singer's sexuality.
Ricky Martin performing in 2007
In a message posted in both Spanish and English on his official website, the Livin' La Vida Loca singer wrote: 'I am proud to say that I am a fortunate homosexual man. I am very blessed to be who I am.'
Ricky Martin gay: Twitter users welcome news he's 'livin' la vida open'
He says that the decision to come out was prompted by beginning the task of writing his memoirs, which he describes as 'a project I knew was going to bring me closer to an amazing turning point in my life.'
Martin, a father of two via a surrogate mother, also writes that he had been advised by people closest to him to not come out, but adds: ' Allowing myself to be seduced by fear and insecurity became a self-fulfilling prophecy of sabotage… To keep living as I did up until today would be to indirectly diminish the glow that my kids where born with. Enough is enough. This has to change.'
He adds: 'The word "happiness" takes on a new meaning for me as of today.'
Martin, whose sexuality has long been one of the less-well-kept secrets in showbiz, was briefly thought to have come out in June last year, when a Puerto Rican magazine claimed he had said that 'his heart could belong to a woman or a man.' However, the quote turned out to have been twisted somewhat by the magazine, and in fact just meant that Martin refused to talk about it.
Oct 07
Before we get true images from the 2009 calendar here are some preview pics and vid.
They can be found on www.stade.fr and http://videos.stade.fr/swf/p.swf?lg=fr&sig=iLyROoafYqdd
I recorded the sample vid, here is download link on Rapidshare DDS2009 Making of Calendar Preview.
Sep 27
After The Prophecy, another stunning work comin soon……………
After the international success story of The Prophecy, BeautifulMag once again joins forces with yet another photographic talent. Damian Siqueiros is a new art photographer of Mexican origin.
His work characterizes itself by a magical realistic style, a unique mixture of classic symbolism and baroque decadence. Together with BeautifulMag, Damian Siqueiros has created the Chronicles of Desire, a modern interpretation of some of the most beautiful and dramatic myths and legends with one thing in common: irresistible desire.
Once again BeautifulMag transforms your desktop into a vellum on which history is painted. Thousands years old stories, brought to life by a 21st century artist, and by doing so, unfolding time, he reveals a story that started long time ago and that will still continue long after we are gone. A codex named Chronicles of Desire. You can publish Chronicles of Desire on your own site. This trailer is available on MySpace TV, YouTube and DailyMotion with embedded codes.
Return to BeautifulMag.eu on October 11, 2008 for the 1st Chronicle of Desire. BEAUTIFUL | EVERYTHING THAT IS
You can publish Chronicles of Desire on your own site. This trailer is available on MySpace TV, YouTube and DailyMotion with embedded codes. Return to BeautifulMag.eu on October 11, 2008 for the 1st Chronicle of Desire.
Link: The Prophecy – A Digital Masterpiece Of Aymeric Giraudel
Aug 23
WHEN OWNERS ANDY FRASER AND BILL SHERMAN SAID THAT THEIR BRAND AJAXX63 WOULD REDEFINE HOW GAY DUDES LOOK AT T-SHIRTS, WE COULD NOT IMAGINE THIS IS WHAT THEY HAD IN MIND. NOT THAT WE ARE COMPLAINING OF COURSE. ON THE CONTRARY.
Ajaxx63 presents its new designs for this summer in a most original way. In fact, they don't really show them at all. Unlike previous campaigns, this one doesn't talk about the great fit of the Ajaxx63 tee's, or the high quality of the product, or the catchy gay-targeted graphics. What it does show however is that each item you can find in the Ajaxx63 collection is the perfect item to define your personal style. Whether you wear them as presented here, or in a more conventional way with only a few holes to stick your head and arms through, for sure you will have success wearing your Ajaxx63 shirt. If not by the often ambiguous graphics and printed text, then for sure by the athletic fit. No wonder Ajaxx63 t-shirts are the new banners of today's gay culture.


Photography by Gabriel Goldberg.
From Ajaxx63 Blog:  Due to overwhelming demand and interest, I am putting up more of the pics from our summer 2008 ad campaign photo shoot by Gabriel Goldberg. Let me start by saying, I love this campaign! Gabriel captured exactly what was going on inside my head to create a splash for summer 2008. What I didn't expect was just how much guys would react to the images. Most guys love it, love the model and love the way we choose to represent our company in a fashion ad campaign. (About 95% love it) Well, then there is the other 5% that are confused by it or think it is a bad way to sell t-shirts, " they are all ripped up….who would want ripped up t-shirts like that?" "is this fashion or 80's porn?" "You are blatently using sex to sell clothes" etc. My goal was to generate interest in the ajaxx63 fashion image not on a particular shirt per say so this has gone far beyond my goal. We do get asked about 2 times a day for the ripped up shirts though, and I have to admit, its not a bad idea.
May 25
Congrats to Russia and Dima Bilan!
Here is the winners for the 53rd edition of the Eurovision Song Contest, which was hosted by Serbia.

Ruslan Alehno (Belarus) and Dima Bilan (Russia) – Eurovision 2008

Ruslan Alehno (Belarus) and Dima Bilan (Russia) – Eurovision 2008
???……I think it's noisy there and Dima tries to tell something to Ruslan… but it looks like something else…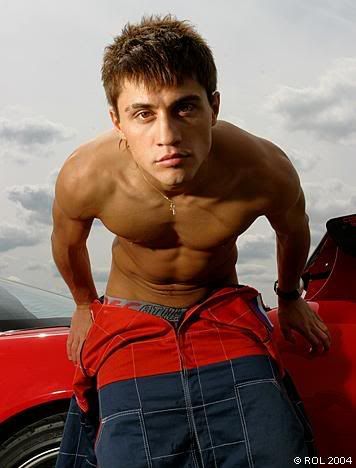 More Photo Click here:
More Eurovision:
Eurovision Song Contest 2008 Final Top 5 (videos)
RUSSIAN POP STAR DIMA BILAN WINS THE 2008 EUROVISION SONG CONTEST
May 25
Scrummy Danny tackles cancer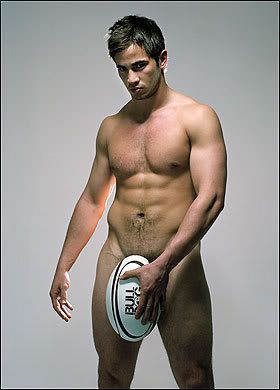 On the ball … Danny Cipriani poses near naked for Everyman Campaign
Watch his backstage footage here.
RISING England rugby star Danny Cipriani gets his kit off and shows why girls are keen to make a pass at him.
The London Wasps fly-half, 20, posed to help kick off the male cancer Everyman Campaign.
He joined a host of stars who stripped for Cosmopolitan magazine's Naked Centrefolds Special to raise awareness of the campaign.
To raise further funds for the charity log on to http://shop.ebay.co.uk/merchantcosmopolitan
centrefolds after May 15 for items donated by past and present centrefolds.
They will include a rugby ball signed by the London Wasps.