Britain's final medal tally: Gold, 19; Silver, 13; Bronze, 15

BEIJING handed the Olympic flag to London today in a spectacular closing ceremony.
Rock legend Jimmy Page and singer Leona Lewis starred in the eight-minute slot for London, while footballer David Beckham was also involved.

Handover moment: X-Factor singer Leona Lewis performs in front of a 90,000-strong crowd

Stunning … Leona Lewis sings at Olympics
London mayor Boris Johnson received the Olympic flag in the handover ceremony, which featured a red London double decker bus driving around the Bird's Nest stadium being pursued by Team GB cyclists Chris Hoy, Victoria Pendleton and Shanaze Reade.
Jacques Rogge, the International Olympic Committee president, told the 91,000 people inside the Bird's Nest stadium: "Tonight, we come to the end of 16 glorious days which we will cherish forever.
"Thank you to the people of China."
PM Gordon Brown, who spoke yesterday of his hope that a UK football team could compete in the next Olympics, also attended the closing event.
Beckham, who kicked a football into the crowd during the ceremony said he believed the London Olympics in 2012 would be even better than the spectacular events this year. 
The England footballer said Team GB's astonishing medal haul will spark a wave of interest in taking part in sport.
Beckham said: "I'm an East End boy and I'm proud that it's happening in London. 

World Icon: David Beckham, Britain's most famous world celebrity, celebrates the handover at the Bird's Nest statium

Boot … David Beckham kicks a football at the closing ceremony
"I was very proud to be involved in the first place bringing it back to England and to London. It's going to generate so much interest in sport and kids are already getting excited about it. 
"We have seen what the Chinese have done here and I'm sure we will better that, without a doubt."
 Team GB won three more medals yesterday with boxer James DeGale leading the way by winning the men's middleweight title. 
The 22-year-old Londoner came out on top in a hard-fought contest with Cuban Emilio Correa at the Workers' Stadium. 
The boxer's gold medal followed other success for British athletes on the penultimate day.
Kayaker Tim Brabants, who already has a gold from this summer's Games, won bronze in the men's 500m race while Sarah Stevenson took bronze in a dramatic +67kg taekwondo contest to become Britain's first ever medallist in the sport. 
A good luck message from the Prime Minister was not enough to help Britain's teenage diving sensation Tom Daley on to the podium. 
Daley, 14, from Plymouth, finished 7th in the 10 metre platform final at the Water Cube. 

Teen star: British diver Tom Daley, 14, looks relaxed during the closing ceremony
Team GB has had its most successful Olympics for a century.
 Britain currently lies in fourth place in the medal table behind China, USA and Russia, after notching up 19 gold medals, 13 silver and 15 bronze to make a total of 47 medals. 
The Queen today congratulated British and Commonwealth athletes for their success at the Beijing Olympics and said she was looking forward to the London Games in 2012.

Finished … a magnificant fireworks display kicked off the Olympic closing ceremony

Show … the closing ceremony set the standard for the London Games

Farewell … the Bird's Nest stadium has provided a fantastic arena for the Games

Stage … Olympics has been great success

Fireworks … great display to end the show

Watching … Gordon Brown watches ceremony with his wife Sarah

Amazing … gmynasts in the closing show

Flame … the Olympic torch will now head to London

Cycle … bikes in the ceremony

Wheel of joy: A performer wheels around the ceremony to leave the crowd delighted

Bus … London start their eight minute section

Handover … London Mayor Boris Johnson waves Olympic flag

2012 … the baton has been passed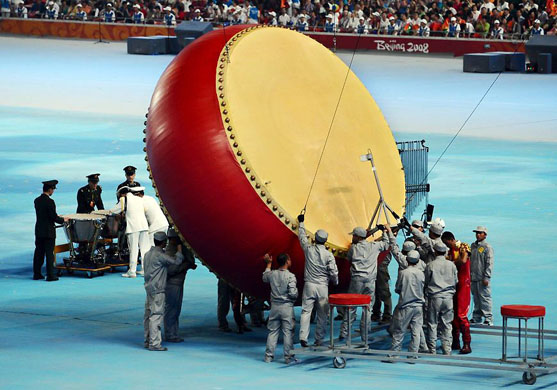 Workers erect a giant drum ready for the closing ceremony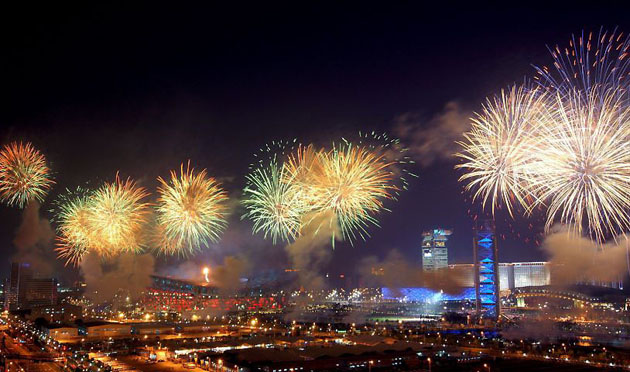 Fireworks light up the sky as the countdown to the Games' finale ends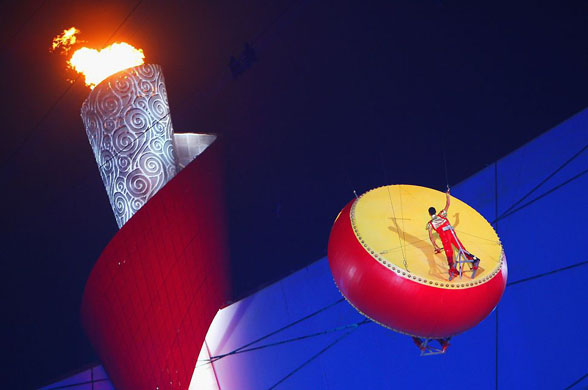 A drummer performs near the Olympic flame

Dancers during a closing ceremony performance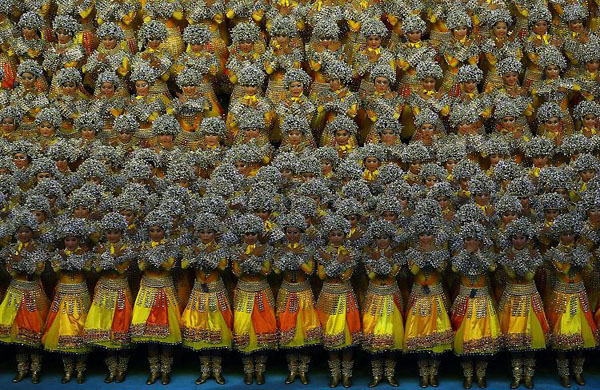 Dancers during a closing ceremony performance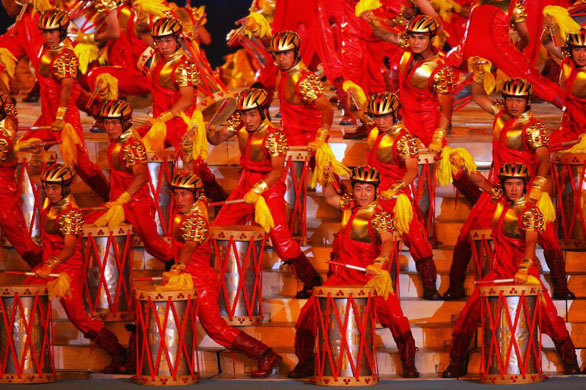 Drummers perform in the stadium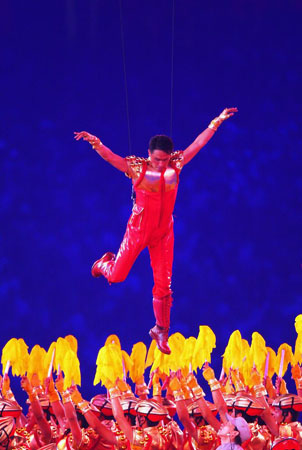 A close up of some of the performers in today's showpiece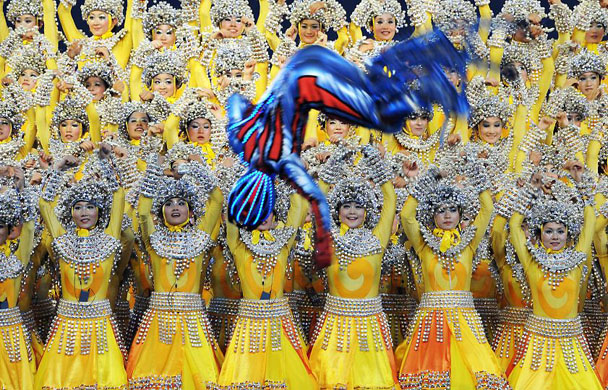 Entertainers perform during the closing ceremony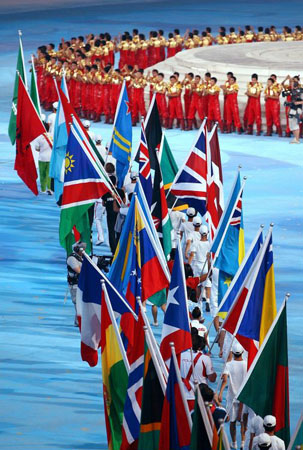 Flagbearers representing countries from around the world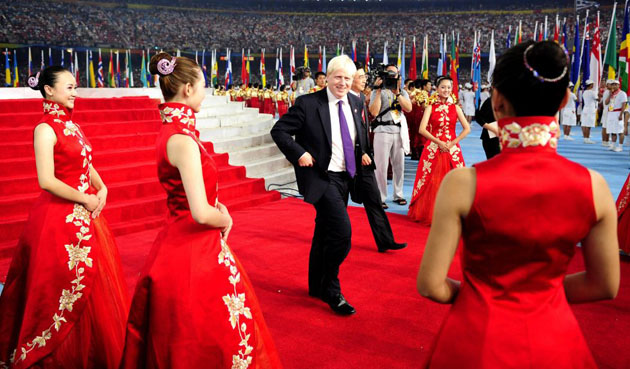 Boris Johnson during the ceremony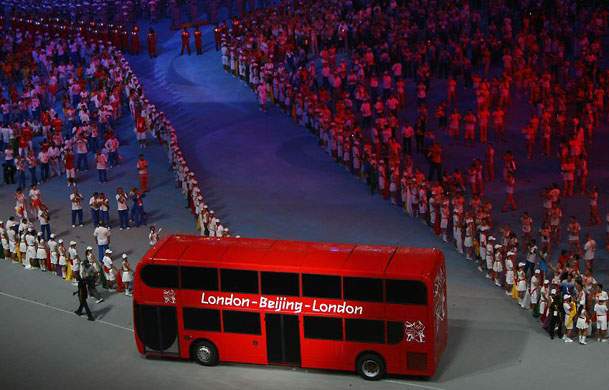 A London bus is driven into the stadium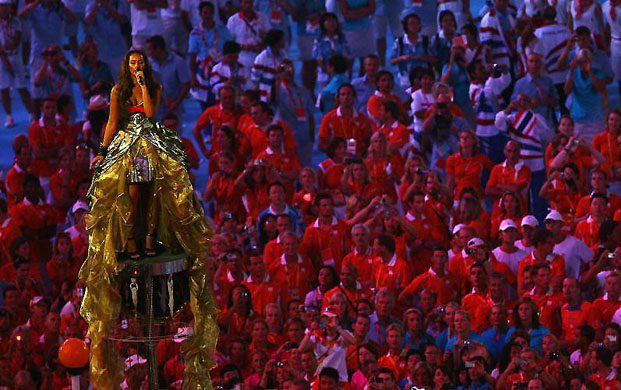 Leona Lewis performs during the closing ceremony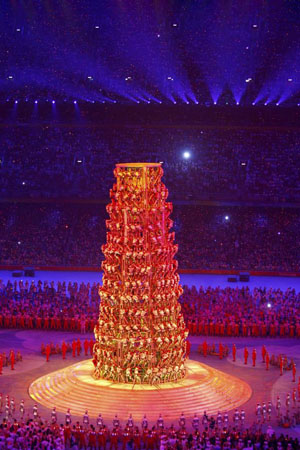 Participants perform during the closing ceremony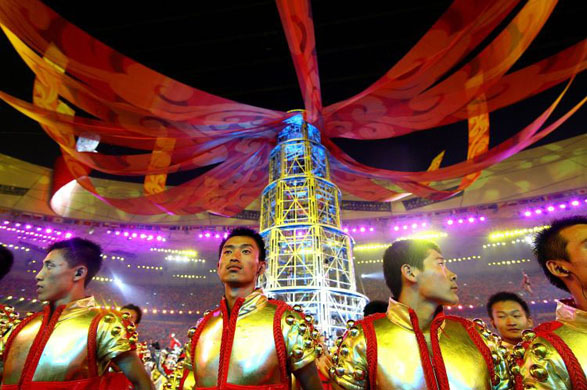 Performers during the ceremony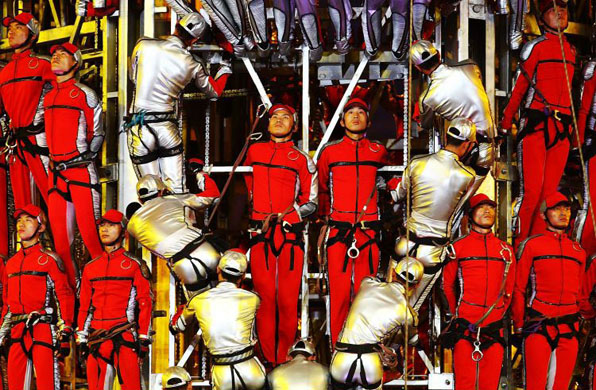 A close-up of performers on the 'memory tower'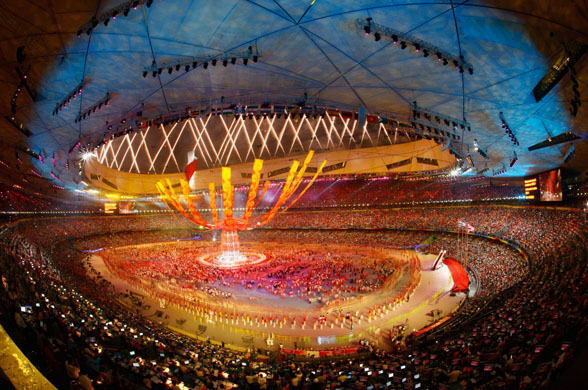 The festivities during the closing ceremony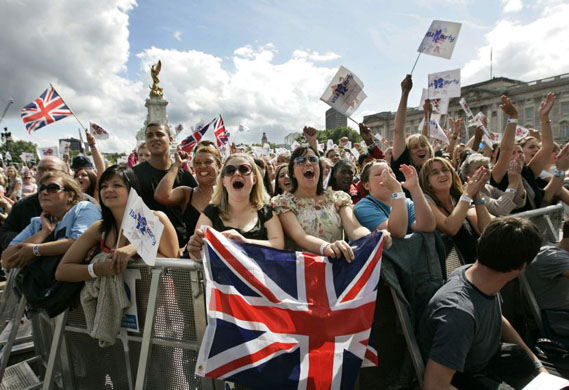 Crowds in London celebrate as they watch a screen showing events in Beijing
MORE PHOTOS: