Mar 30
Ricky Martin's confirmation via Twitter that he is "a fortunate homosexual man" has the microblogging site's users buzzing with the news about the singer's coming-out as gay.
Ricky Martin and his twin sons Matteo, left, and Valentino in Miami last year. Photograph: Pablo Alfaro/AP
After years of batting away rumours about his sexuality, the general consensus in the social networking sphere is summed up by a post from user Krissy_Recodo: "Ricky Martin has the courage to admit that he's gay.. yeah!.. for those men hiding their true identity.. shame!!!"
"What an unnecessary fuss over Ricky Martin," tweets an underwhelmed pforpapa. "Really why does it matter to anyone other than him?!"
"Ricky Martin is livin' la vida open," chips in ClaudiaOnIce about Puerto Rican Ricky, who had women swooning with his performances of Livin' la Vida Loca at the height of his fame in the 90s.
He revealed on Twitter – in a message posted in both English and Spanish – that writing his autobiography had showed him the importance of being true to himself.
"I was sure the book was the tool that was going to help me free myself from things I was carrying within me for a long time. Things that were too heavy for me to keep inside," he explained.
Martin, who became the father of twin boys born via a surrogate mother in 2008, stayed in the closet because he thought coming out would damage his career.
Mar 30
HUNK, MUSIC & VIDEO
Comments Off on Ricky Martin comes out as gay: 'I am a fortunate homosexual man'
Ricky Martin has come out as gay, bringing to an end years of speculation about the singer's sexuality.
Ricky Martin performing in 2007
In a message posted in both Spanish and English on his official website, the Livin' La Vida Loca singer wrote: 'I am proud to say that I am a fortunate homosexual man. I am very blessed to be who I am.'
Ricky Martin gay: Twitter users welcome news he's 'livin' la vida open'
He says that the decision to come out was prompted by beginning the task of writing his memoirs, which he describes as 'a project I knew was going to bring me closer to an amazing turning point in my life.'
Martin, a father of two via a surrogate mother, also writes that he had been advised by people closest to him to not come out, but adds: ' Allowing myself to be seduced by fear and insecurity became a self-fulfilling prophecy of sabotage… To keep living as I did up until today would be to indirectly diminish the glow that my kids where born with. Enough is enough. This has to change.'
He adds: 'The word "happiness" takes on a new meaning for me as of today.'
Martin, whose sexuality has long been one of the less-well-kept secrets in showbiz, was briefly thought to have come out in June last year, when a Puerto Rican magazine claimed he had said that 'his heart could belong to a woman or a man.' However, the quote turned out to have been twisted somewhat by the magazine, and in fact just meant that Martin refused to talk about it.
May 25
Scrummy Danny tackles cancer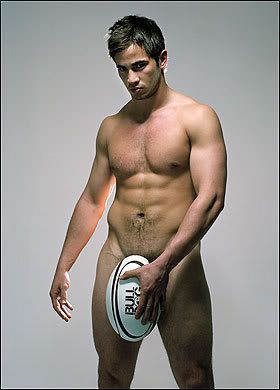 On the ball … Danny Cipriani poses near naked for Everyman Campaign
Watch his backstage footage here.
RISING England rugby star Danny Cipriani gets his kit off and shows why girls are keen to make a pass at him.
The London Wasps fly-half, 20, posed to help kick off the male cancer Everyman Campaign.
He joined a host of stars who stripped for Cosmopolitan magazine's Naked Centrefolds Special to raise awareness of the campaign.
To raise further funds for the charity log on to http://shop.ebay.co.uk/merchantcosmopolitan
centrefolds after May 15 for items donated by past and present centrefolds.
They will include a rugby ball signed by the London Wasps.